Simply the fastest trike in the world this year … it's official. Winner of the Multi-Track class World HPV Championships 2018. New Black colour scheme with a new easy access swept cruciform and all new custom super light wheels. A dynamic new look matt black colour scheme, custom graphics make the 2019 VTX Black look as sleek, light and as fast as it rides.
With its sporty ride, comfort and medium height seating position, the versatile Sprint X Tour will guarantee you are ready for the challenge ahead. Whether you are carving bends, pushing your speed, or on a long distance tour, the Sprint X Tour is a trike for all seasons.
Enjoy the relaxed pace of recumbent riding on the beautifully designed Adventure. With its high and accessible seating position, rugged looks, and ride capabilities, the Adventure is primed to cruise the open road, discover hidden trails, and explore new horizons.
The Adventure HD now features our new designed handlebars which allow for a wider, roomier cockpit, an easy access swept cruciform, a new Ergo-Luxe ultimate in comfort mesh seat and a new handlebar clamping system with super secure indexed clamps ensuring easy alignment when unfolding and solid handlebar positioning.
The Rover has introduced more people to trike riding than any other recumbent trike on the market! TerraTrike's most popular model, the Rover, has built its following by providing excellent reliability and usability, 
The Rambler is as versatile as it is stylish! Featuring the same high seat and straight-forward frame geometry as the Rover, but with many upgrades for riders who want to go faster and farther.
The Gran Tourismo is alluringly sophisticated with exhilarating performance resulting in the ultimate touring machine. With a nod to the original Tour, the GT is the culmination of over 20 years of continuous innovation and customer feedback, resulting in the most comfortable and best handling TerraTrike to date!
The Trident Spike is an excellent choice for the entry level triker. Comfortable, nice components, folding and economical too! Check one out today!
The Trident Spike 2 is an upgrade from the Spike 1. In addition to the Spike 1 offerings, the Spike 2 has 24 speeds, and upgraded components. Check one out today!
E Spike is a modified 8 Speed Spike 1- It ifeatures a 350W Geared Hub Motor, a special Cranket with sensors, a 36V 13 AH Rack Mounted Battery with built in light, and a Digital Display. With this system you can choose between throttle only or 6 different levels of pedal assist.
The Stowaway models have always been Trident Trikes #1 sellers. The Stowaway I is our Base Model. Nicely equipped including fenders, rack, mirror, bottle cage and rear tail light.
The Stowaway models have always been Trident Trikes #1 sellers. In addition to the Stowaway 1 features, the Stowaway 2 has upgraded equipment including adjustable handlebars and bar end shifters.
The Trident Titan is a no-nonsense heavy duty folding trike at a reasonable price. The titan is capable of carrying 400 pounds, and is equipped with a nice component selection.
The Trekker is Trident's rear suspension trike. The suspension is adjustable and is discreetly hidden inside the Trekker's frame. Great component group and adjustable bars too!
HP Velotechnik Gekko fx 26
With its dynamic 26″ rear wheel, the US version of our Gekko fx 26 is longing to explore the great trails between east and west coast. This trike folds to a small package!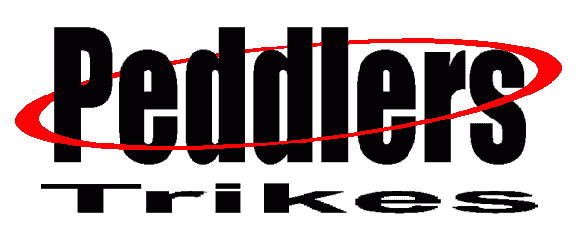 Address: 605 South 30th Street, Heath Oh